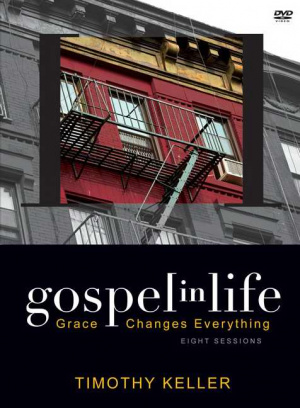 RATING:
How does the Gospel affect the entirety of one's life? How does the Gospel change hearts, communities, and the entire world? How does the Gospel create communities that in turn declare the Gospel? How does the Gospel shape our work lives and our understanding of loving our neighbor? Tim Keller, in his DVD teaching, Gospel in Life: Grace Changes Everything, walks through these questions and more, challenging the core of how we understand the Gospel working in our heart. Keller's intensive teaching includes eight sessions, all of which are approximately 10-12 minutes each.
I thoroughly enjoyed each session, especially session four on community. For those familiar with Keller's works and teachings, the first few sessions will sound familiar (on the city, heart, and idolatry); however, the sessions nicely fit into the flow of the rest of Keller's driving point: Gospel grace changes the inworking and outworking of one's life. The only reason I didn't give the DVD a perfect 5 stars was because of the semi-steep cost in relation to what you get ($20 for a hour-and-a-half teaching) and because the lighting was terrible in session three. Overall, great stuff.
RECOMMENDATION:
Whether you're a senior pastor, a small group leader, a stay-at-home mom, or a twenty-something working in the corporate world, Keller's DVD will help shape and develop a life transformed by the Gospel.
GET THE DVD & STUDY GUIDE NOW:
Disclosure of Material Connection: I received this DVD free from Zondervan by request in order to review its material. I was not required to write a positive review. The opinions I have expressed are my own.